The Past, Present and Future of Electronic Health Records (EHRs)
Mass implementation of electronic health records (EHRs) is presented as a key strategy to reduce expenses and improve quality and continuity of care. But EHRs also introduce new complexity and costs to medical environments, and there is no standardization in methodology to ensure interoperability, efficient execution or adherence to start-up budgets, which can lead to less than optimal adoption of EHR systems. Additional security, coding and billing issues are also large concerns.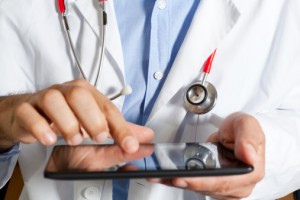 What Are Electronic Health Records?
If a traditional paper record is a snapshot, then an electronic health record is a high-definition video. EHRs focus on the total health of the patient, going beyond standard clinical data collection to include a broader view of the patient's health-related history. Notable benefits of EHRs include secure sharing of data between systems, locations and providers, increased communication and more patient involvement.
EHR Adoption
If all goes according to plan, EHRs will be fully functional and exchangeable by 2016. According to the Department of Health and Human Services (HHS), the number of hospitals adopting EHRs has increased from just 9 percent in 2008 to over 80 percent in April of 2013. Much of this growth can be attributed to incentives and requirements laid out in the Recovery Act of 2009 and the Affordable Care Act. The Health Information Technology for Economic and Clinical Health Act (HITECH Act), enacted under the Recovery Act of 2009, allocates $24.3 billion to promote and expand the adoption of health information technology.
However, adoption of EHRs is not as simple as acquiring information technology. A set of meaningful use stages, developed by HHS, ensures quality and guides EHR systems towards the ultimate goal of better patient outcomes. Meaningful use is determined by attaining certain milestones over time, as defined by HHS, that demonstrate improved quality, safety and efficiency — and reduce health disparities while engaging patients and improving care coordination through a secure and private records system.
Organizations must meet these HHS milestones to continue receiving incentives that offset costs and avoid penalties. HHS has extended the January 1, 2014, deadline to demonstrate Stage II meaningful use. But, with a hard deadline of 2015, organizations must scramble to meet these standards or see their Medicare and Medicaid payments reduced by 1 percent. Additionally, with a Stage III meaningful use deadline looming in 2016, this year promises to be a pivotal year for EHRs.
Benefits and Challenges
Wide-Reaching Opportunities
Proponents of EHRs want to eliminate problems caused by disjointed, incomplete and sometimes unreadable paper records to ensure care providers have a full portrait of a patient's health and personal circumstances when crafting a care plan. The federal government's Office of the National Coordinator (ONC) – which oversees and coordinates implementation of health information technology – explains that EHRs stand to improve:
quality and convenience of patient care
patient participation in care
accuracy of diagnoses and health outcomes
care coordination
practice efficiencies and cost savings
Interoperability Hurdles
Despite all these benefits, there are many challenges to universal adoption and meaningful use of EHRs. Research demonstrates mixed results regarding the impact of EHRs in key benefit areas; this is largely attributed to poor EHR system design, failure to fix flaws in existing designs and the lack of standards to make interoperability easier between different systems.
Design Disconnects
As reported by Healthcare IT News, EHR detractors criticize the design for its inflexibility and say it can interfere with the patient/provider interaction. While EHRs provide a platform for thorough data collection and analysis, the data collected is designed to line up against billing codes and population level data, leaving little wiggle room to create EHRs that reflect the range of unique cases most providers actually see. This disconnect means administrations must either reconfigure their carefully chosen, multi-million dollar systems after the fact, or face the possibility of missing out on the financial and health outcome benefits promised by EHR implementation in addition to cuts in Medicare and Medicaid reimbursement. Many propose integrating physician, health care provider and patient input into the design, or redesign, of EHR systems to solve these pressing problems.
Data Safety and Security
The care coordination and ease of transfer inherent in EHRs also presents new threats to patient confidentiality and record safety. There are three main threats to data safety: data snooping, financial identity theft and medical identity theft. It is the responsibility of the provider, not the EHR designer, to ensure that the data in EHRs is secure. Strict adherence to encryption protocol, Health Insurance Portability and Accountability Act of 1996 (HIPAA) privacy and security rules, audit trails and access controls can help health organizations combat threats to patient privacy but represent yet another layer for health administrations to address.
Going Forward
As we move forward, experts predict EHRs will be a critical tool to support changes necessitated by the massive transformation of the U.S. health care system under the Affordable Care Act. Expenditures, systematic hiccups and failures are inevitable as the insertion of these new policies and EHR systems will, no doubt, have a somewhat disruptive effect on health systems. Instituting and revising EHR systems wisely in 2014 will be key in saving trillions of future health care dollars and millions of quality-of-life years in the future. It will be up to health administrators and administrations to stay on top of failures and successes, adapting to challenges and reapplying successful tactics. Top health administration graduate programs must train the next generation of health administrators to have the flexibility and knowledge to adapt to what promises to be an ongoing and developing issue in health administration.
How is your practice or health care delivery system utilizing EHR technology? Tell us in the comments.