Academics
Academics
Academics
MPH@GW is the online Master of Public Health (MPH) program offered through the Milken Institute School of Public Health at the George Washington University. The Milken Institute SPH brings together the fields of medicine, business and health policy to develop professionals with the skills and knowledge to tackle complex global health challenges.
MPH@GW emphasizes local, national and global health practice as well as interdisciplinary teaching. The curriculum focuses on building your core competencies and skills utilizing coursework and case materials from both the U.S. and abroad. Students have the opportunity to tailor their curriculum through a Health Informatics concentration, a number of elective courses or a more generalist approach.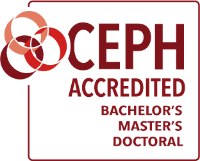 MPH@GW is fully accredited by the Council on Education for Public Health (CEPH).
Curriculum Highlights
The MPH@GW curriculum is designed to prepare you to take on the complex and ever-changing health issues facing our society. Hands-on experiences are built into the curriculum so that you have the opportunity to apply your didactic, case-based education in real-world settings.
Students have the option to complete coursework on a part-time or full-time basis.
The curriculum is composed of 45 credits:
17
Core Public Health
Course Credits
10
Program-Specific Course Credits
16
Elective
Course Credits
2
Culminating Experience Credits
Courses are traditionally taught in 10-week modules across the calendar year (four modules per year). MPH@GW offers 12-month and 18-month accelerated track programs. In addition, you may choose to earn your MPH online in two, three, four or five years.
Learn more about MPH@GW through the materials below:
Learn more about our program offerings through our plans of study:
Customize your degree with a concentration
Climate and Health
Our thoughtfully crafted curriculum and expert faculty will prepare you to:
Analyze health risks from anthropogenic climate change and global environmental change using methods and research findings from the epidemiological, environmental exposure assessment, and implementation sciences.
Communicate about the effects of climate change and environmental degradation to a wide range of audiences and in a variety of settings.
Manage diverse teams to design, implement, and evaluate actions to advance systemic change towards mitigating health risks from climate change and environmental degradation.
Health Informatics
Our thoughtfully crafted curriculum and expert faculty will prepare you to:
Understand how clinical and administrative data are shaping health care delivery — virtually and face to face — at local, state and national levels.
Examine how organizations — from public health institutions like the CDC to major companies like Amazon — collect, analyze and translate data.
Contextualize and meaningfully participate in the health informatics conversations or initiatives that are taking place in your own organization.
Global Health
Our thoughtfully crafted curriculum and expert faculty will prepare you to:
Analyze the organization, structure and function of health care, public health and regulatory systems across national and international settings.
Design population-based policy, program, project or intervention.
Advocate for political, social or economic policies and programs that will improve health in diverse populations.
Women, Youth and Child Health
Our thoughtfully crafted curriculum and expert faculty will prepare you to:
Explore the social, behavioral and systems-related determinants that are unique to the health and well-being of women, children, adolescents and families.
Examine distinct periods in human development and presents both risks and opportunities for interventions.
Focus on the development of programs, policies, and advocacy strategies.
As the need for health care professionals increases, the advancements within health care technologies and data do, too. Health care occupations are projected to grow 15% from 2019 to 2029.1 A strong foundation in health data, analytics and IT provides future health care leaders with the skills to adapt, respond to and innovate the industry.
Choose From Elective Courses
The MPH@GW elective courses are another way to tailor your MPH education to your professional aspirations and academic interests. As a student, you can customize your curriculum by selecting courses from the following elective areas:
For more information regarding course content, speak with an Admissions Counselor today.
Request Information
Real World Experience
As a student, you'll complete public health leadership courses, an applied practice experience, both practicum and a culminating experience, giving you the opportunity to apply classroom principles to real-world situations. These experiences enrich your academic portfolio, offer hands-on learning experiences and foster collaboration and networking with health care leaders and peers.
Practicum
The MPH@GW applied practice experience empowers you to address real-life public health challenges, taking what you learn in the classroom and applying it to problems in your community or around the world. You can choose to complete your applied practice experience at a local, national or international organization and tailor your practicum project to your area of interest.
We partner with more than 700 practice sites and affiliated preceptors, and you're encouraged to be highly proactive and creative as you research where you would like to complete your practicum.
For more information, please visit the Office of Applied Public Health.
Culminating Experience
The culminating experience (CE) synthesizes the knowledge and skills you gain in your coursework and applies it to a community public health issue. With MPH@GW, you can customize the CE to meet your unique interests and needs.
As an MPH@GW student, you must complete one of the three CE options:
Critical Analysis Project
Analyze your chosen issue through a full survey of published research. You may compare and contrast existing research, explore contradictions in published research or explore underlying factors contributing to your issue.
Program Plan
Develop a program plan that outlines an evidence-based intervention in a public health issue. You must address all relevant components of a public health program plan, including community profile, epidemiology profile, landscape scan, cultural analysis, program intervention, and budget and evaluation plan.
Research Project
Conduct research to address your chosen public health topic. You have two options for presenting the report: a full written report or a submission for publication of the research report to a public health journal of your choice.
Learn more about the core competencies you will possess upon completion of the MPH@GW program.
Our Online Student Experience
The online campus acts as your virtual suite of academic and communication tools.
Attend live classes of approximately 15 students on a weekly basis that encourage in-depth discussion among students living all over the country.
Access faculty-curated coursework at any time, giving you the freedom to complete engaging assignments at your own pace between live classes.
Communicate face-to-face with faculty and fellow students, through breakout groups and one-on-one office hours, to discuss course content and collaborate on group projects.
Live classes are hosted via HD streaming video which brings students and faculty together in real time. Classroom layouts can be adapted for the specific needs of each course and feature engaging sharing tools like live chats, breakout rooms, polling and annotation.
Are You Ready to Become a Public Health Leader?
Advance your career in public health with the online MPH program from GW. Request Information Today.
Request Information
Blended Learning
As an MPH@GW student, you have the option to take up to 15 credits at the George Washington University campus in the heart of Washington, D.C. — the epicenter of health policy networking and advocacy. This mix of online learning and in-person experience comes together to create a dynamic and interactive curriculum structure.
The core curriculum is the same and taught by the same GW faculty who teach on campus, and you'll work with the same adviser regardless of the mode of delivery.
Faculty
Our world-class faculty members are passionate about training and mentoring the next generation of public health leaders. Outside of the classroom, they are conducting cutting-edge research, testifying on Capitol Hill, and influencing public health both in the United States and around the globe. Members of our faculty have worked at organizations such as the World Health Organization, the Environmental Protection Agency and the Food and Drug Administration.

Class Profile
MPH@GW students are diverse, intelligent and dedicated individuals from various educational and professional backgrounds.
States represented:
47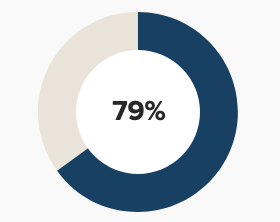 Female
Male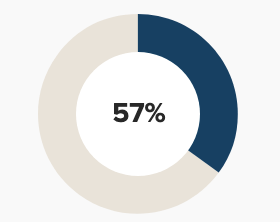 Historically Underrepresented 2
67%
Have 5+ Years of Work Experience
The information above reflects enrolled online and on-campus students as of October 2018.
1 Bureau of Labor Statistics, Occupational Outlook Handbook. (Accessed March 25, 2021.) arrow_upwardReturn to footnote reference
2 African-American, American Indian/Alaska Native, Asian, Hispanic and Native Hawaiian/Pacific Islanderarrow_upwardReturn to footnote reference