Local Officials Often Make Health Care Decisions with Little Input from Citizens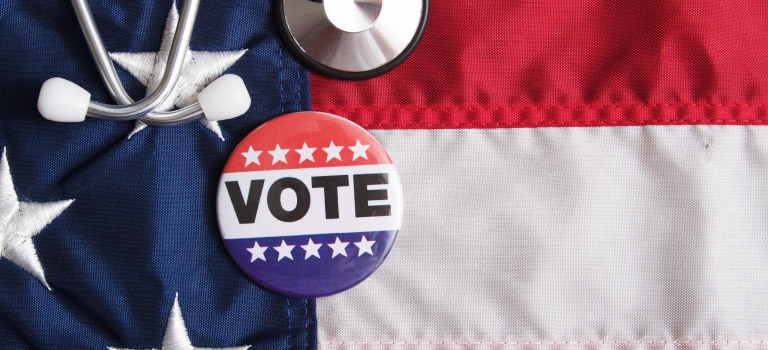 How much money is $558 billion? It's more than $1,700 per U.S. citizen. It's slightly less than what the U.S. spends every year on the military. It's more than the gross domestic product of Sweden, one of the world's most advanced economies. It's also what U.S. state and local governments spent on health care in 2016.
And yet, each year, only 20 percent of eligible voters actually vote in local elections. Compare that to national elections where turnout tends to be much higher — between 55 and 60 percent for president. The pot of money for national health care is also bigger, about $934 billion.
But national leaders do not control the whole health care pie. Elected local and state officials control many decisions – and the corresponding budgets — that affect people's health. And yet voters are staying away from the polls in droves. Millennials in particular, perhaps because they tend to be more mobile and rent rather than own a home, are less likely to feel they have a stake in a local election.
"This is an American curse in general that we have somewhat low voter turnout," said Leighton Ku, professor and director of the Center for Health Policy Research at the Milken Institute School of Public Health at The George Washington University. "There may be a variety of causes about that, not the least of which is that many people think that they don't have a major voice and, in many cases, feel discouraged about their choices, or that their choices don't motivate them."
Let's examine some offices related to health, health care, and public health that are decided by local elections, the types of decisions that come with those positions, and the consequences of not voting.
Governor
Governors, all of whom are popularly elected, serve as the chief executive officers of their states. They are responsible for implementing state laws and overseeing the operation of the state executive branch. They advance and pursue new and revised policies and programs using a variety of tools, among them executive orders, executive budgets, and legislative proposals and vetoes.
Governors have broad powers over state expenditures that involve health care, including expanded Medicaid coverage, prescription drug policies, efforts to fight chronic and infectious diseases and mental health.
The 2015 election of Republican Gov. Matt Bevin of Kentucky, a tea party candidate, had huge consequences on the health of people in his state.
Under Bevin's predecessor, Democratic Gov. Steve Beshear, the percentage of adult Kentucky residents without health insurance plunged more than in any other state — from 19 percent to 7 percent — since several major aspects of the Affordable Care Act went into effect.
Those gains were made by expanding Medicaid to include individuals and families with incomes up to 33 percent above the federal poverty line.
Kentucky's online insurance exchange was considered a national model.
According to a study published in the Journal of the American College of Surgeons, the move had a measurable impact on the health of Kentuckians. Having more people covered by insurance improved the quality of breast cancer care, for instance, leading to earlier diagnosis and an increased rate in breast-conserving therapy.
Beshear was popular but prohibited from seeking re-election due to term limits. Bevin, although down 5 percentage points to Democrat Jack Conway a month before Election Day, prevailed by 9 percentage points after promising to roll back Medicaid expansion and dismantle the state's online insurance exchange.
The voter turnout was 30.6 percent. More than 2 million Kentucky voters stayed home — four times more than voted for Bevin.
Bevin pushed through changes to the state's Medicaid program that were approved by the Trump administration. One new requirement is that all "able-bodied" recipients work or volunteer. Activists have vowed to challenge the changes in court. But Bevin issued an executive order in January that would end the state's Medicaid expansion if any part of the new rules are struck down in court.
Kentucky's online insurance exchange was considered a national model, said Sheila A. Schuster, licensed clinical psychologist and a board member for Kentucky Voices for Health, a Louisville nonprofit group that works to improve the health of people in the state.
"To see that disbanded was really heartbreaking," Schuster said in an interview.
"We do a lot of work with people with disabilities of all kinds, from physical to mental health, to brain injuries, to get them motivated to assure them that they can register and can vote, and can speak up," she continued. "We have 874,000 Kentuckians who have a disability of one kind or another. That's 23 percent of our population, so if they all voted, they can control what happened here in the state."
State Legislator
State legislators change laws or pass new laws. They spend lots of time assisting constituents and campaigning for re-election. They also decide how tax dollars should be spent.
Consider Louisiana, a state facing a budget crisis. Democratic Gov. John Bel Edwards has proposed slashing $489 million in spending on health care, mostly for the poor and elderly. The cuts also would cause the state to lose almost $1.6 billion in federal matching funds.
"If these cuts materialize, they could lead to a drastic reduction of some hospital services and medical education in communities across Louisiana," Paul Salles, chief executive of the Louisiana Hospital Association, told the Daily Advertiser in Lafayette.
Edwards called the Legislature into a special session in February to try to reach an agreement with Republican leaders on revenue-raising measures that could avert the cuts.
The tough decisions will fall on people like Rep. Jeff Hall, a Democrat who represents Louisiana House District 26.
He was elected in a 2015 special election, cruising to victory by defeating two other candidates with about 84 percent of the almost 4,000 votes cast. Unofficial voter turnout was just 16 percent.
Mayor
The mayor acts like a chief executive officer of a city, and has the executive authority within the city government. This form of local government is most often used in larger cities where mayors need to be more connected to state and federal politicians and public administrators. Very frequently, they control the departments that provide city services, including health departments.
Hurricane Harvey left a path of destruction in Houston in 2017 and created public health crises from contaminated water to mold to mosquitoes.
The city has a health department budget of $32 million, which includes six health centers offering services from immunizations to STD testing, family planning to dentistry. The health department has a sliding fee schedule and will not deny access to services due to inability to pay.
The mayor of Houston is Democrat Sylvester Turner. He defeated Republican Bill King in December 2015, winning by less than 2 percentage points in an election with about 210,000 ballots cast, or 21 percent of registered voters.
There were eight times as many Houstonians who didn't vote as there were who voted for the winner. And that was considered a good turnout for an election in the nation's fourth most-populous city.
City Council Member
As local legislators, councilmembers are responsible for and responsive to the citizens who elect them. Depending on the city's charter and state laws, they may review and approve the annual budget, establish tax rates, enter legal contracts, borrow funds, pass ordinances, and regulate public health and safety.
They also have the power to regulate, hire and fire the appointed officials who run local health services such as immunizations, mosquito control and neighborhood health clinics.
During his tenure as Milwaukee Health Commissioner, Bevan K. Baker oversaw the city's swift response to the swine flu epidemic and its effort to improve Milwaukee's high infant mortality rate.
But, also under his watch, the health department failed to follow up and provide services to the families of thousands of children who had tested positive for lead.
Mayor Tom Barrett said earlier this year he had identified mismanagement in the health department that left him deeply disturbed and angry. He also pointed out in a news conference that the report found that funding for the Lead Poisoning Prevention Program declined from a peak of $6 million in 2009 to just over $3 million in 2018.
It took the city's Common Council just over three weeks to find a replacement, Patricia McManus, head of the Black Health Coalition of Wisconsin.
Several aldermen (members of a municipal council) raised concerns about the speed of her appointment, noting that it had not gone through the typical process of a committee hearing and vote before being taken up by the full council. But the vote was 13-1.
Barrett fired back with "displeasure and concern," saying that "the vetting of the interim health commissioner should've gone through the normal committee hearing process. Unfortunately, the actions of the Common Council weren't motivated by public health, but by political concerns."
That may be true, but most Milwaukeeans don't cast votes in those races. Some members of the Common Council have won their primaries with as little as 20 percent voter turnout.
It's Complicated
"It is almost certainly the case that lots of people don't understand who does what — and it's complicated," Ku said. "Things like rules related to smoking, public health decisions about things like spraying for mosquitoes, tend to be things which the main decision-makers are at state local levels."
Medicare, for instance, is a federal program, so decisions are made at the federal level, he continued. But Medicaid is "messy" because it's a federal and state program.
"Both sides put in money and both sides have some decision-making," Ku said. With such a fractured system, "that makes it tough for voters to know who they should hold accountable, and who's to blame."
Citation for this content: MPH@GW, the online MPH program from the Milken Institute School of Public Health at the George Washington University