Reducing ER Visits in Washington, D.C.
Emergency rooms in Washington, D.C. regularly receive high national rankings, but they have some of the longest emergency room wait times and highest admission rates in the nation. The Kaiser Family Foundation reports that the District also suffers from a shortage of primary care physicians (PCPs) , with only half of the need met.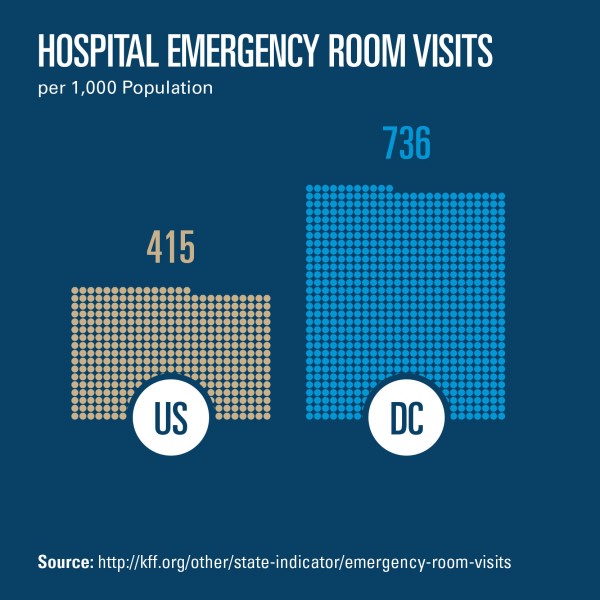 Nationwide, the average wait time in the ER before a patient even sees a doctor is 28 minutes. But in D.C., the average wait time is 46 minutes, as shown by the graphic below. (Please note that this data doesn't account for the total average time spent in the emergency room — which can be much, much longer.)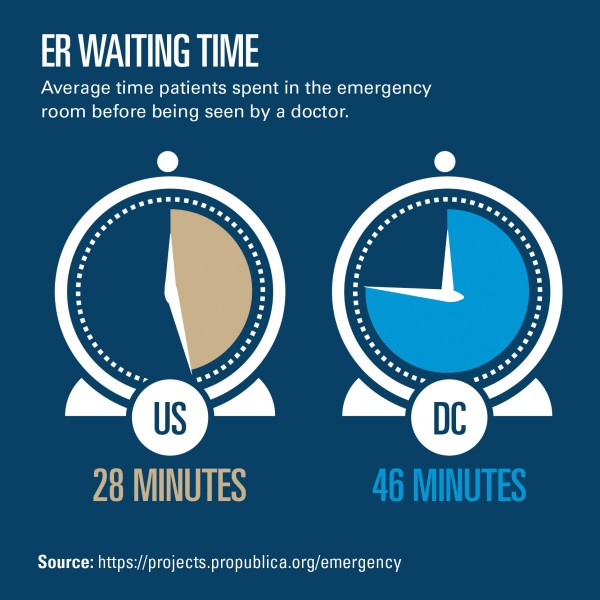 Very recent data from MEP Health indicates, however, that even these factors may be improving. A monthly utilization report from December 2013 reveals that area acute care centers had just over 40,000 visits that month, down 8 percent from the previous year. Overall, visits declined nearly 2 percent for the last two months. Low-income patients in particular often turn to emergency rooms because they do not have access to a PCP who can provide preventive care or treatment for less acute ailments. In addition, many patients with low socioeconomic status prefer hospital care because they perceive hospitals to be more affordable and convenient and of higher quality than PCPs, according toa study published in Health Affairs.
Boosting the number of PCPs and nurse practitioners (who often help fill the void left by a shortage of PCPs) could help alleviate crowding at emergency rooms and free up acute care centers to focus on cases that are true emergencies. Other viable approaches include expanding access to walk-in clinics and improving awareness about preventative health measures individuals can take to improve their health.
Improving Health Care Outcomes
Fortunately, area residents and students have plenty of local organizations working to provide alternatives to the ER and improve health care outcomes. Here's a look at several of these organizations.
Many of these health care organizations help increase access by working directly with communities that might otherwise turn to the ER, taking the burden off of emergency rooms and providing more effective alternatives. As organizations work to address long wait times and overcrowding in the ER, health care leaders will play a key role in implementing lasting solutions.
Know of another organization helping to improve health care outcomes and curb ER visits in Washington, D.C.? Tell us in the comments!