Telemedicine: Using Remote Monitoring to Reduce Hospital Readmissions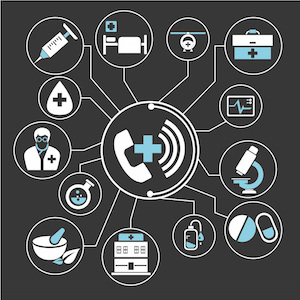 Sally was 74 years old and lived alone. She also had congestive heart failure. Last year, she was hospitalized five times when her condition worsened. After the last admission, however, her doctors tried something new. They sent Sally home not just with a handful of prescriptions and a ream of instructions but with an iPad, a digital scale, a blood pressure monitor, an oximeter to determine the oxygen levels in her blood, and a handheld EKG device to measure her heart rate.
Her computer dings every morning, a reminder to check her vital signs. Sally also uses the touch screen computer to answer a few questions about how she's feeling. The results are wirelessly transmitted to the hospital, where an algorithm determines if she's showing any danger signs, such as weight gain, that indicate her condition is worsening. If she is, the computer relays the information to a nurse who follows up via teleconference.
Sally loves the equipment, especially because it means she doesn't have to go into the doctor's office as often. It also gives her a sense of greater control over her condition.
But the best part? She hasn't been in the hospital in 11 months.
Such is the power and potential of telemedicine, sometimes called telehealth, to keep people out of the hospital. Telemedicine, described as "the use of technology to deliver health care services and information at a distance in order to improve access, quality and cost," includes everything from videoconferencing and remote monitoring to telephone calls, e-mail and texting. But what it really does is remove the walls between the health care provider and the patient, allowing care to be available anywhere, any time. So it's not surprising that 52 percent of hospitals now use telehealth, with another 10 percent just ramping up.
The Challenge: Reduce Readmissions or Pay Up
One of the biggest aims of telemedicine in hospitals today is to reduce the rate of readmissions. Hospitals have a major incentive: If they don't reduce preventable 30-day readmissions, they stand to lose a substantial amount of revenue.
That's because of the Hospital Readmissions Reduction Program, which the Centers for Medicare & Medicaid Services (CMS) instituted in 2012. The program is designed to slash the rate of 30-day readmissions of Medicare patients, which hit a high that year of nearly 20 percent.
The penalties are tough. This year, hospitals stand to lose 3 percent of their entire Medicare reimbursement for excess readmissions of patients who have had heart attacks, pneumonia, heart failure, chronic obstructive pulmonary disease (COPD), and hip and knee replacement.
In 2014, 2,610 hospitals were fined through the program, with 39 penalized the entire 3 percent. That's enough to hurt a hospital's bottom line. Overall, CMS estimates that hospitals paid $428 million in penalties that year.
But financial reimbursement isn't the only reason to reduce readmissions. These efforts also prevent disease exacerbations that can land patients back in the hospital. For instance, monitoring the weight of a person with congestive heart failure can provide an early warning signal that the patient's heart is having trouble pumping enough blood. Ensuring that patients with COPD use their maintenance medications every day can prevent problems that lead to hospital readmission.
Even better, of course, would be to prevent the initial intervention by providing better preventive care.
Hence, hospitals have a powerful motivation to find ways to keep their discharged patients at home. Increasingly, they are turning to telemedicine.
Telemedicine and Readmissions: Parsing the Evidence
The primary type of telemedicine used to reduce readmissions is remote monitoring. Hospitals provide patients with computers, videoconferencing equipment and portable monitors that can track vital signs such as blood pressure and blood oxygen levels. Patients hold real-time video calls with nurses, complete questionnaires online designed to assess their condition, receive education via interactive programs and send their vital signs tracking information wirelessly direct to their health care provider. The evidence shows that such programs can work quite well.
Partners HealthCar in Boston implemented a telemonitoring and education program for patients with heart failure and other chronic conditions in 2006. More than 1,200 patients have been through the program so far. The results are startling: Readmission rates for heart failure patients plummeted by half and non-heart failure readmissions rates fell by 44 percent. Partners estimates the program saved more than $10 million in its first six years.
A similar program through the Veterans Health Administration for patients who had heart attacks reported similar results.
The University of Virginia Medical Center in Charlottesville instituted a telehealth program that combines real-time data with remote monitoring for patients discharged with heart failure, pneumonia, COPD, a recent heart attack, or a hip or knee replacement. A technician sets up the equipment in the patient's home within two days of discharge. The simple-to-use equipment consists of a small box that wirelessly transmits data from a blood pressure cuff and oximeter to a registered nurse. If the nurses notice any problems, they contact the patient by phone or, if needed, make an in-home visit. Just a year after implementing the program, the medical center saw its 30-day readmission rate drop to about 10 percent, compared to a national average of 17.5 percent.
St. Vincent's Health System in Indianapolis tracked 300 patients with congestive heart failure, COPD or both in the 30 days after they were discharged from the hospital. Half the patients received videoconferencing equipment; half (the control group) did not. A nurse conducted at least 10 videoconferencing sessions with the patients in the intervention, more often if patients needed their vital signs taken. Meanwhile, the control group received typical post-discharge treatment, primarily just a phone call. The results were impressive. Patients in the videoconferencing group had a 5 percent readmission rate compared to 20 percent in the control group.
Confronting the Challenges
The success of telemedicine must be tempered with its challenges, however. These include:
Legal and regulatory issues. State medical boards regulate the practice of medicine in each state, often with differing requirements. What happens when a doctor or nurse licensed in one state delivers telemedicine services to a patient living in another?
Reimbursement. Will insurers pay for telemedicine services? In most readmission programs, the hospital picks up the cost.
Malpractice insurance. How does providing virtual patient care affect malpractice rates?
Privacy and confidentiality. Does the program meet all HIPAA requirements regarding patients' health care information? For instance, is patient data encrypted and safely stored? Do technicians who help set up the equipment understand HIPAA policies?
The Center for Telehealth and e-Health Law has more on these topics.
Telemedicine at the George Washington University
The George Washington University is on the leading edge of telemedicine and mHealth initiatives. These include:
The George Washington University's Telemedicine Institute is an online hybrid institute that introduces the topic of telemedicine to qualified undergraduates, graduate students and interested professionals in a multidisciplinary format while spurring innovation and entrepreneurship in the fields of medicine, engineering, public health, business and law.
The George Washington University's School of Medicine & Health Sciences runs the mHealth (mobile health) Collaborative, an interdisciplinary team with GW faculty representation committed to advancing the academic framework of mHealth on GW's campus. Several courses related to mHealth, telehealth, application design, policy, health information technology, communications and wireless networks are available at both the graduate and undergraduate levels.
In addition, the mHealth Collaborative is currently working on designing graduate-level certificate programs in the space.
The George Washington University Hospital is also deeply engaged in telemedicine and mobile health. The hospital has grants to study the use of text messaging to communicate with patients who have diabetes and the use of telemedicine to enable patients to receive dialysis at home. Its clinicians also provide medical services via telemedicine to ships at sea, remote clinics and teams, and correctional facilities. It also offers an emergency medicine telemedicine fellowship to develop future leaders in telemedicine.
Conclusion
The ultimate promise of telemedicine is to tear down the walls that traditionally enclose patients and providers and enable the provision of health care anywhere, at any time. We're closer than many think. Today, there are services that enable patients to talk to a specialist via Skype-like programs 24 hours a day, seven days a week; "cybersurgeons" who use remote robotics to operate on patients at distant locations; and virtual ICUs, in which critical care specialists and nurses at high-acuity hospitals monitor patients at community hospitals, avoiding transfer. No wonder, then, that 89 percent of health care executives in one survey believe that telemedicine will transform the U.S. health care system — if it hasn't already.
Sources:
Kvedar J., Coye M.J., Everett W. Connected Health: A Review of Technologies and Strategies To Improve Patient Care With Telemedicine and Telehealth. Health Aff (Millwood). 2014;33(2):194-199.
American Hospital Association. The Promise of Telehealth For Hospitals, Health Systems and Their Communities. Trendwatch. January 2015.
Readmissions Reduction Program. Centers for Medicare & Medicaid Services. Available at: http://www.cms.gov/Medicare/Medicare-Fee-for-Service-Payment/AcuteInpatientPPS/Readmissions-Reduction-Program.html August 14, 2014.
Rice S. More U.S. hospitals to receive 30-day readmission penalties. Modern Healthcare. October 2, 2014. Available at: http://www.modernhealthcare.com/article/20141002/NEWS/310029947
Boccuti C., Casillas G. Aiming for Fewer Hospital U-turns: The Medicare Hospital Readmission Reduction Program. January 29, 2015. Available at: http://kff.org/medicare/issue-brief/aiming-for-fewer-hospital-u-turns-the-medicare-hospital-readmission-reduction-program
Broderick A., Lindeman D. Scaling Telehealth: Lessons from Early Adopters. The Commonwealth Fund. 2013.
Darkins A. Telehealth Services in the United States Department of Veterans Affairs. 2014
VHQC News. UVA Health System, Tech Firm Collaborate to Reduce Hospital Readmission Rates. June 2014. Available at: http://broadaxecarecoordination.com/blog/UVA_HealthSystems_Article-1.pdf
Shaw G. Remote monitoring to cut readmissions: One year later, Beacon pilot preps for future. FierceHealthIT. November 14, 2012. http://www.fiercehealthit.com/story/remote-monitoring-cut-readmissions-one-year-later-beacon-pilot-preps-future/2012-11-14
Health Care Executives Say Telemedicine Will Alter Health System. iHealthbeat. Available at: http://www.ihealthbeat.org/articles/2010/5/20/health-care-executives-say-telemedicine-will-alter-health-system