Top Careers for Those With a Health Informatics Degree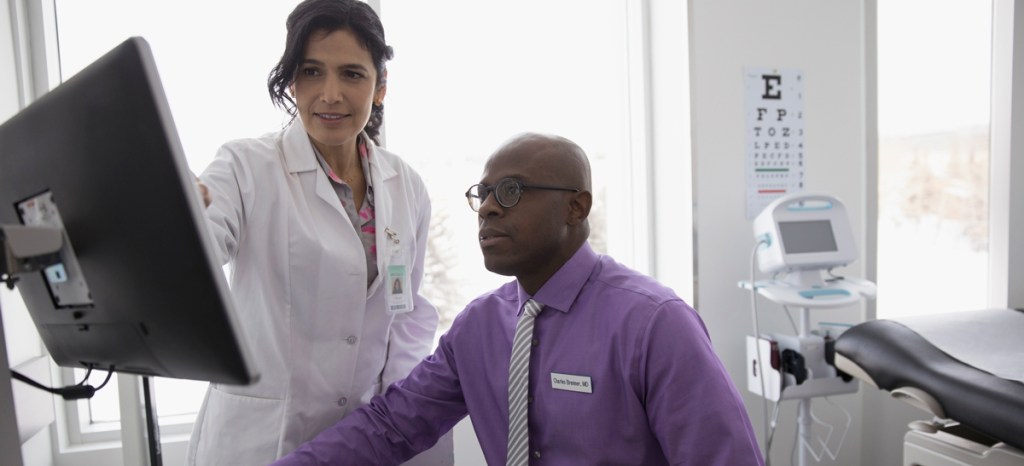 As the health care industry has become increasingly data-driven, the need for health informatics and analytics managers to organize and draw conclusions from health information has increased. According to the Bureau of Labor Statistics, employment in computer and information technology occupations is projected to grow 13 percent from 2016 to 2026, faster than the average for all occupations.
Computer and information technology occupations are expected to add about 557,100 new jobs to the economy, due to increasing emphasis on cloud computing, big data and information security. At the same time, demand for people who can manage health information and data is also projected to grow by the same amount due to an increasing aging population.
Chief Executives in Health Care Information Technology
There are a number of chief executive roles that heavily revolve around information technology. They include chief information officers, chief technology officers, chief data officers, chief marketing officers and chief analytics officers.
According to the Bureau of Labor Statistics, top executives like CIOs earned a median salary of $104,700 in 2017 depending on the industry.
Network Administrators, Systems Administrators and Cloud Analytics Managers
Network and computer systems administrators monitor computer networks, software platforms and computer programs.
Cloud analytics managers are responsible for the analysis and optimization of an organization's cloud services. Managers oversee platform operations by utilizing their expertise in cloud security and data analytics. They are also responsible for measuring the success of digital and technical teams.
According to the Bureau of Labor Statistics, the median salary for network and computer systems administrators was $81,100 as of 2017.
Data Protection, Information Security and Data Privacy Managers
Data protection managers provide support to security teams by controlling and managing security threats. They respond to privacy impact issues and assess the best way to respond to clients. They also communicate policies and standards to ensure consistency of data protection. Data protection managers are crucial to health systems, which must safeguard sensitive health data against data breaches, ransomware and other data security threats.
According to the Bureau of Labor Statistics, the median salary for information security analysts was $95,510 in 2017.
Clinical Informatics Managers and Medical and Health Services Managers
Clinical informatics managers are responsible for clinical information systems within an organization. Managers communicate regulatory standards to ensure they are met consistently. They also monitor budget, training and daily operations for health care facilities.
According to the Bureau of Labor Statistics, the median salary for health services managers was $98,350 in 2017.
IT Project Managers
IT project managers plan and direct organizations' technology centers. They administer information security and work with management teams to help promote security compliance. This includes high priority projects involving security administration.
According to the Bureau of Labor Statistics, the median salary for IT project managers and those in similar roles was $139,220 in 2017.
With projected growth over the next 10 years, the health IT industry will have a wide range of opportunities to gain experience in health information and data-related roles.